David Gardner Receives Top Chrysler/ASE Award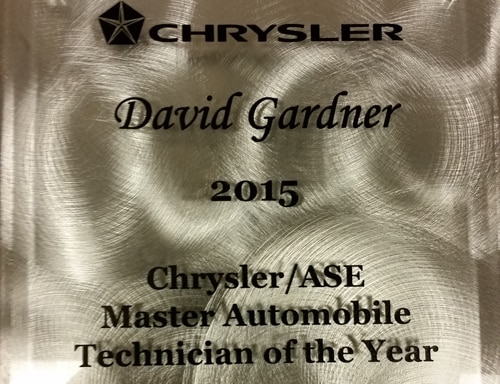 David "Dave" Gardner of Colorado Springs Dodge was recognized by the National Institute for Automotive Excellence as the 2015 Chrysler/ASE Master Automobile Technician of the Year. The award was presented by the National Institute of Automotive Excellence or "ASE" on November 18, 2015 at an awards ceremony and dinner in Scottsdale, AZ.
Dave is the only Chrysler Automobile Technician in the United States to receive the award for 2015. In addition to being the Chrysler/ASE Master Automobile Technician of the Year, Dave is a Full Master Chrysler Certified Technician and an ASE Master certified Technician.
Dave is a native to Colorado Springs and graduated from the University of Southern Colorado in 1980. Dave has been with the dealership for 35 years through changes of location and ownership . He began working as a Technician for Carlin Dodge on Platte Avenue in 1981 where he became certified as an ASE Technician in 1984. In 2003 Carlin Dodge relocated to the current Colorado Springs Dodge location. In 2006 Jim Carlin sold the dealership to MVP Automotive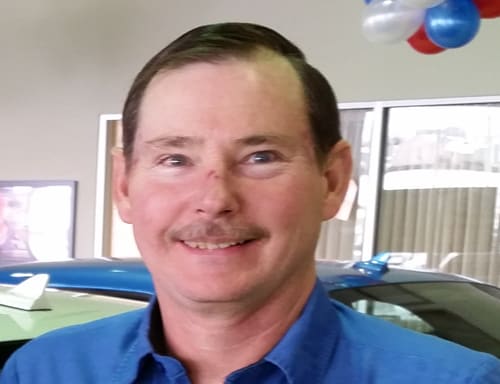 and Carlin Dodge became Colorado Springs Dodge.
Dave's love of fixing cars started as a kid when he would spend hours building model cars. In his teens, Dave's neighbors gave his family a broken down 1953 Mercury that did not run. Dave taught himself how to work on the car. He eventually got it running and drove it through high school and college.
When Dave is not working on cars, he enjoys woodworking, fishing and camping. He is also an avid coin collector. He resides in Colorado Springs with his wife of 32 years. He has two children and is a proud grandfather of a two month old.