Explore the Spacious, Modern 2020 Dodge Grand Caravan in Colorado Springs
All the 2020 Dodge Grand Caravan has to Offer
While contemporary minivans still possess that homey, nostalgic feel they've always had, the Dodge Caravan is more modern than ever. Providing plenty of space for passengers, ample room for Fort Carson shopping trips or vacations and unmatched reliability, minivans are a vehicle to be envied.
In the past, minivans were the only option between a truck and a car. With SUVs and crossovers making their way into the market, automakers have been able to dial in on essential features and improved design on contemporary minivans. The new 2020 Dodge Grand Caravan is an image of such ingenuity. Serving a purpose as an economical option, the Dodge Grand Caravan is affordable and conventional staying true to its practical roots.
New Dodge Grand Caravan Inventory
Interior and Technology Highlights
With an interior that rings true to its Dodge heritage, the Grand Caravan is nothing short of conventional and comfortable. With room for seven passengers, this van has enough space for a large family or several friends to go on an adventure around Pueblo, Peyton, or anywhere the road takes you. Tons of storage is available throughout the interior of the Grand Caravan, including extensive rear storage area and large storage capacity for front-seat drivers and passengers.
Power driver and passenger seats maneuver every direction possible: forward and back, up and down, tilted up or leaned down. A power liftgate and doors bring convenience and ease of use right to your fingertips, while automatic temperature control is available for all three rows of seating. Cloth or leather interior options are also optional to help meet any price point.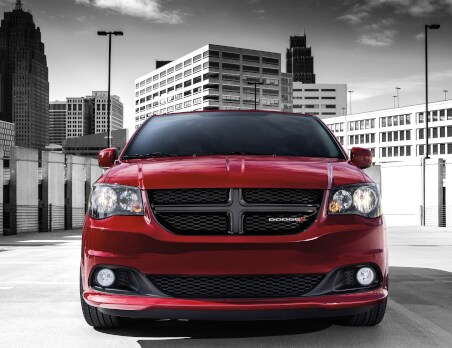 As a parent or family chauffeur, staying connected is important. Direction navigation, phone app integration, and entertainment features are incorporated in the technological design of the Dodge Grand Caravan. Uconnect® Voice Command allows drivers to always be in control by simply speaking. Hands-free calling makes connecting with others safer than ever, while hands-free Fountain navigation helps you reach your destination while remaining fully aware of your surroundings.
An integrated entertainment system keeps passengers entertained on road trips or long drives. Wireless headphones can be used with this system to help passengers hear better and drivers better focused on driving. It's the best of both worlds. Ample USB ports allow for charging multiple devices for several passengers. SiriusXM Radio is also available for 2020 Dodge Grand Caravan owners in Calhan.
Trim Level Options and Attributes
If there is one thing that consumers love the most about new vehicles it is the number of features available and selection. The 2020 Dodge Grand Caravan comes in different trim levels that take basic design to luxury status. The Dodge Grand Caravan offers three different trim levels for its 2020 model year production: the SE, SE PLUS, and SXT.
SE: Available in six exterior color options, the Dodge Grand Caravan SE is the basic minivan. Its economic pricing makes it a viable option for a wide array of consumers. Complete with cloth seats, this trim level averages an EPA-estimated 25 MPG and can tow up to 3,600 pounds.
SE PLUS: The SE PLUS Dodge Grand Caravan meets buyers somewhere in the middle. This trim level is very similar to the SE but features more interior upgrades and exterior accents that raise its price and overall definition.
SXT: As the highest trim level available, the Dodge Caravan SXT takes definition to the next level. Premium suede seats grace the inside that allows two interior color options. With the same fuel economy and capability stats as its predecessors, the SXT is highly customized and offers premium accents.
Pick Out Your New 2020 Dodge Grand Caravan in Colorado Springs
Comparing vehicles for purchase is a daunting event. The professionals at Colorado Springs Dodge can help you weigh the pros and cons of preferred vehicles and provide advice on the auto that will be the friendliest to you and your family.
Schedule a test drive today to see how your preferred vehicle feels on the road, stop by the dealership to see the interior in person or call in to get additional details about potential vehicle ownership or lease options. We are happy to help and can't wait to get you into your new vehicle.